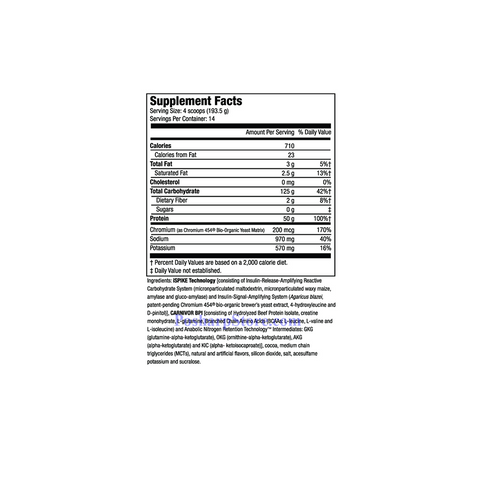 Musclemeds
MuscleMeds Carnivor Mass
عدد الحصص: 14-25
القيمة الغذائية: 50 غرام بروتين، 125 غرام كاربوهيدرات، 2 غرام دهون
Ignite Anabolism: Faster Protein, Faster Carbs and iSpike Promote Explosive Muscle Growth!
It takes more than just calories to gain muscle mass. In order to stimulate rapid muscle growth (and not fat) it takes both calories and precise nutrient partitioning to create a highly anabolic environment.
CARNIVOR MASS – FEEL THE ANABOLIC IMPACT
CARNIVOR MASS is the epitome of an anabolic support supplement and is more advanced than any typical mass gainer.* Where regular foods and typical gainers are limited in terms of speed of absorption, CARNIVOR MASS excels. It combines a unique best-of-breed hydrolyzed beef protein isolate (BPI) with iSpike™. BPI and iSpike act in tandem to support maximum muscle anabolism while helping minimize fat storage.* CARNIVOR MASS is an extremely fast, clean and highly anabolic gainer.* Welcome to a new era in mass building supplementation with CARNIVOR MASS, the fast, clean, highly anabolic mass gainer!*
Beef Protein Isolate – Backed By Research To Build Muscle! Beef has proven itself as a favorite anabolic protein source for many athletes and champion bodybuilders. Now MuscleMeds is the first to provide bodybuilders with a highly advanced weight gainer supplement containing the CARNIVOR Beef Protein Isolate (BPI). The use of BPI in CARNIVOR MASS provides spikes in blood amino acid levels at speeds comparable to whey, providing fast muscle building action.* In addition, the anabolic actions of CARNIVOR Beef Protein Isolate are backed by science!
MuscleMeds advanced hydrolyzed CARNIVOR Beef Protein Isolate provides the power of beef at the speed of whey, delivering rapid absorption of high concentrations of amino acids without the lactose, allergens, fat, cholesterol and other problems associated with dairy products.* This pure beef protein isolate is also 350% more concentrated in amino acids than steak and more concentrated than whey. Plus CARNIVOR MASS is enhanced with additional BCAAs for even greater anabolic power!*
IDEAL TIMES OF USE
With its Beef Protein Isolate and iSpike Technology, CARNIVOR MASS allows the advanced bodybuilder to achieve high-speed macronutrient delivery in one convenient product.*CARNIVOR MASS is ideal for consumption:
Post-workout (to maximize recovery and muscle growth).
Upon awakening in the morning (to suppress catabolism and promote anabolism).
Any other time when several hours have passed since your last meal.