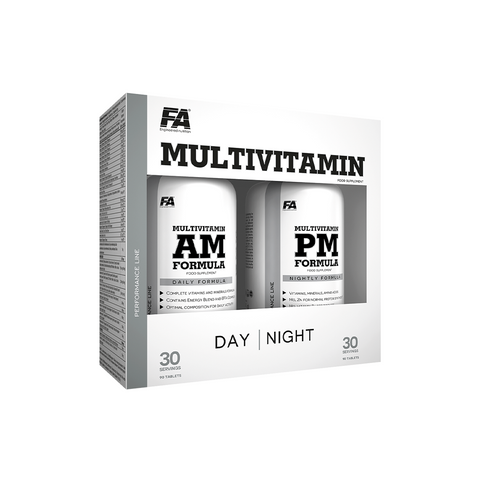 FA Nutrition
FA AM PM
الفوائد: تزويد الجسم بالفيتاميتات الأساسية خلال فترة الليل والنهار
كيفية الاستخدام: 3 حبات صباحا و 3 قبل النوم
الوزن والمكيال: 30 حصة
تركيبة ايه.ام للنهار تزود الجسم بالفيتامينات، المعادن، و الطاقة و الاحماض الدهنية الغير مشبعة، وتدعم وتعزز الجسم للقيام بالنشاطات اليومية من دون الشعور بالتعب والإرهاق. ويساعد ايضا على زيادة عملية الأيض.
تركيبة ب.م للفيتامينات المسائية
تركيبة الفيتامينات تزود الجسم بالفيتامينات و المعادن الاساسية لتسريع عميلة الاستشفاء العضلي.
تركيبة ب.م تساعد على افراز هرمون يساعد في نمو العضلات و تساعد على تهدئة الجسم، استشفاء العضلات و تحسين جودة النوم.
• تساعد على افراز هرمون لنمو العضلات
• تساعد على تحسين جودة النوم
FA AM-PM MultiVitamin AM Formula
Benefits: provides the body with all the essential vitamins
How to use: 3 caps in the morning (AM) and 3 caps before bed (PM)
MultiVitamin AM FORMULA®
Delivers optimal doses of vitamins, minerals, energy-boosting substances (Energy Blend) and unsaturated fatty acids (EFA Complex). Due to that MultiVitamin AM FORMULA® effectively supports body functions even during periods of intense physical activity. • Day formula that covers daily vitamins and minerals requirements • Source of healthy, unsaturated fatty acids • Energy Blend increases energy and metabolism
MultiVitamin PM Formula
MultiVitamin PM FORMULA® supplies the body with adequate doses of vitamins and minerals necessary for fast muscle recuperation. Moreover, GH Releasers, Relaxation Blend and Recovery Blend included in MultiVitamin PM FORMULA® accelerate night recovery, reduce fatigue, improve sleep quality and growth hormone release.