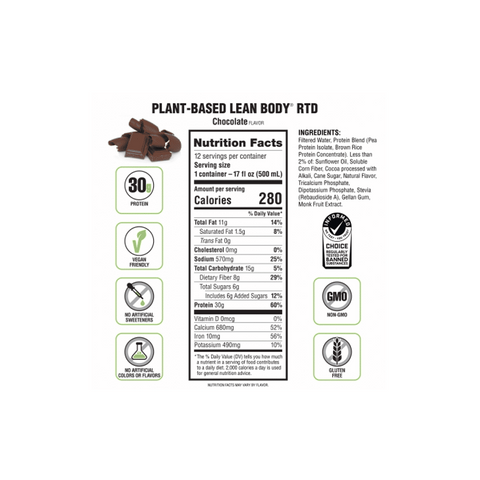 Labrada
Labrada Plant Based Lean Body RTD
الفوائد: بروتين نباتي %100 جاهز للشرب، يحتوي على خليط من بروتين البازيلاء وبروتين الرز النباتي، يساعد على تزويد الجسم بالبروتين النباتي الصحي المغذي.
 القيمة الغذائية: 30 غرام بروتين، 15 غرام كربوهيدرات و11 غرام دهون. خالي من الجلوتن وغير معدل وراثيا.
Plant-Based Lean Body® Ready-to-Drink Protein Shakes contain only the highest quality pea and rice plant protein blend
Plant-Based Lean Body® ready-to-drink shakes come packaged in Earth-Friendly, FSC®-certified Tetra Pak® cartons and have a re-closeable, recyclable, plant-based cap derived from sugarcane. FSC® certified means that the carton is made largely from paper sourced from sustainably managed forests. Using renewable materials derived from natural resources that can be replenished over time, helps to conserve the environment.
Nutrition Facts: 30g Protein, 15g Carbs, 11g Fat. Non GMO, Gluten free.
No artificial colors, sweeteners and flavors.